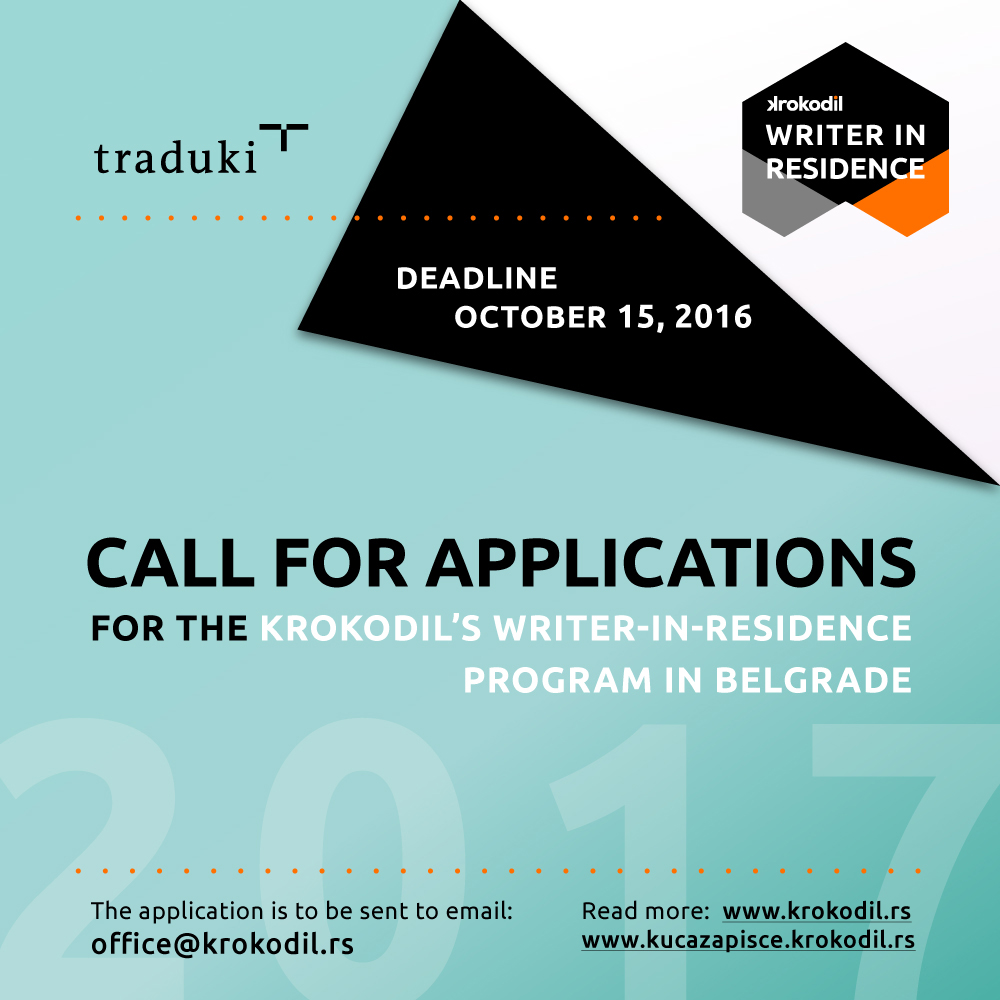 22 Sep

Call for applications for the KROKODIL's Writer-in-residence program in Belgrade

Association KROKODIL, in partnership with literary network Traduki, hereby invites writers from Bosnia and Herzegovina, Montenegro, Slovenia, Croatia, Macedonia, Albania, Bulgaria, Kosovo and Romania to apply for writers-in-residence program in Belgrade in 2017.

Deadline for submitting applications is October, 15 2016.

The fellowship for the writers includes a one-month stay in fully equipped apartment in Belgrade, travel costs and a stipend in the ammount of 800 euro nett.

Applicants elligible for this fellowship are fiction writers, poets, essayists and collumnists, translators (elligible translators are only those translating to and from the following languages: Slovenian, Croatian, Bosnian, Montenegrin, Serbian, Albanian, Romanian and Bulgarian), script writers and playwrights.

This program provides the writers the opportunity to work and get to know the literary, cultural and social milieu in Belgrade and Serbia. It aims at initiating two-folded communication – of writer with literary audience, the city and country in which he is staying, as well as the local audience with the work, culture and heritage of the visiting author.

Application must include:
biography (in Serbian, Croatian, Bosnian, Montenegrin, English or German);
full address (phone number and e-mail address);
bibliography;
description of the project to be undertaken during one-month stay in Belgrade;
letter of recommendation from the publisher or literary association.
The application is to be sent to the following email address info@krokodil.rs
Visit site to find out more www.kucazapisce.krokodil.rs.
---
Association KROKODIL has initiated the first continuous regional program for writers – KROKODIL's Writer-in-residence in 2012. Since then it has been hosting writers from many regional, European and non – European countries, in regular monthly slots. This program influences the scope and dynamics of literary cooperation, and supports direct, two-folded communication between the home country of the visiting author, and the cultural and literary life of Belgrade and Serbia.
The network TRADUKI is a project of the Federal Ministry for Europe, Integration and Foreign Affairs of the Republic of Austria, German Federal Foreign Office, Swiss arts council Pro Helvetia, KulturKontakt Austria (on behalf of the Federal Chancellery of Austria), Goethe-Institut, S. Fischer Foundation, Slovenian Book Agency JAK, Ministry of Culture of the Republic of Croatia, the Department of Culture of the Government of the Principality of Liechtenstein, Cultural Foundation of Liechtenstein, Ministry of Culture of the Republic of Albania, the Ministry of Culture and Information of the Republic of Serbia, the Ministry of Culture of the Republic of Romania, the Ministry of Culture of Montenegro.