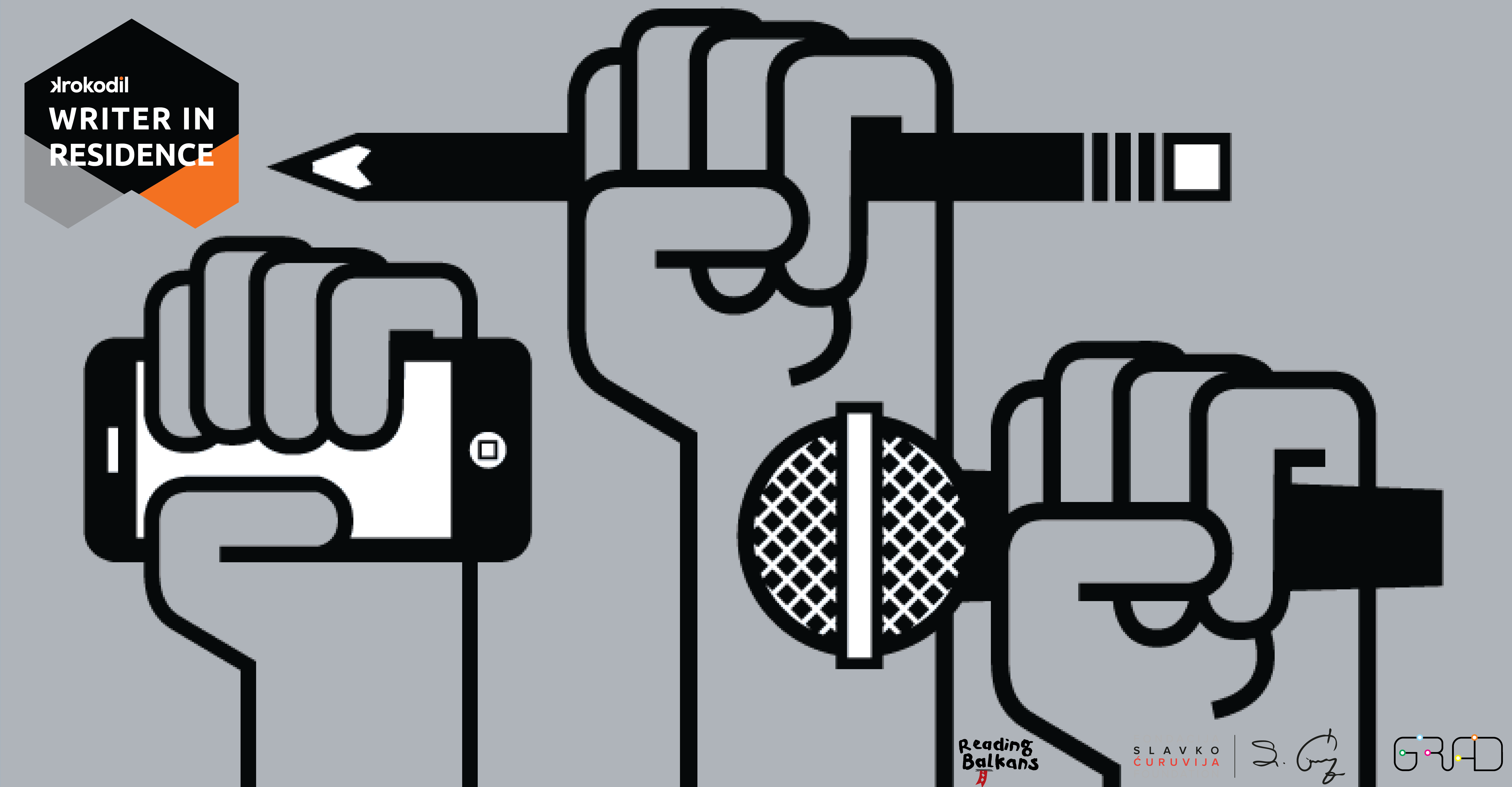 29 May

When a job can cost you your life
When a job can cost you your life
About freedom of the media and position of journalists today
In May, KROKODIL's literary residence hosted its 67th guest, Dragan Bursać, from Banja Luka (Bosnia and Herzegovina). Dragan, a columnist of Al Jazeera Balkans, was awarded with 2 prestigious awards this year, BiH Journalist of the Year and the European Press Prize 2018, respectively. He is the 67th guest of KROKODIL's literary residence. During the "Evening with Dragan Bursać" organised on 24th May in KC Grad, Dragan participated in a discussion with his colleagues – Brankica Stanković, Dejan Anastasijević and Ilir Gaši – and interested audience.
In societies of our  region, which all declare  themselves as open and democratic –  the condition of media freedom is rather demorilising  and is constantly decreasing . Not only professional journalist, but also intelectual elite and whistleblowers are all facing the threats issued by politicians, media agencies loyal to them, and the part of general public leaning towards conservatism and nationalistic cheering  that dominate public opinion.
The centres of power  spread their influence through the media, and subsequently  the society, thus also exerting  strong pressure on  editorial policies, by cutting financial support or actively controlling and tabloidising the media. Although such environment forces some journalists to conscionously or unconsciously succumb to  auto-censorhip, many of them are still boldly probing and –  as much as it is in their power – pushing the boundaries of  media freedom.
That such kind of courage can cost one their life is a well-known fact.  We are all aware that journalism is one of the most dangerous  professions. And it is  not only war reporters who are threatened, but also investigative journalists, who are unearthing connections between governing structures and behind-the-scenes power centres, and all those who in any way dare to challenge the established status quo. So, what to do when your job can cost you your life?
Dragan Bursać was born in the town of Bihać (BiH) in 1975. He completed his primary education in Bosanski Petrovac, where he also spent his childhood. He has a degree in philosophy. In 2000, Bursa' started his professional career at the Radio Banja Luka, but in 2007 he returned to column-writing, since when he has been working as a columnist of Al Jazeera Balkan's and BUKA online portal. In his work, Bursać primarily focuses on themes pertaining to war crimes in the former Yugoslavia, dealing with the past, humanity in wars, etc. In March 2018, Bursać was awarded with the most prestigious award the European Press Prize, in the category "The Opinion Award 2018", for his text "The third shooting of the boy called Petar from Konjic".  He received another award, Journalist of the Year, granted by the Association of Journalists in BiH, upon his arrival to KROKODIL's residence. Bursać is also the recipient of UNICEF's award for journalism, as well as of "Srđan Aleksić" award. He is living and working in Banja Luka. His stay in KROKODIL's literary residence is organised as part of the READING BALKANS project.