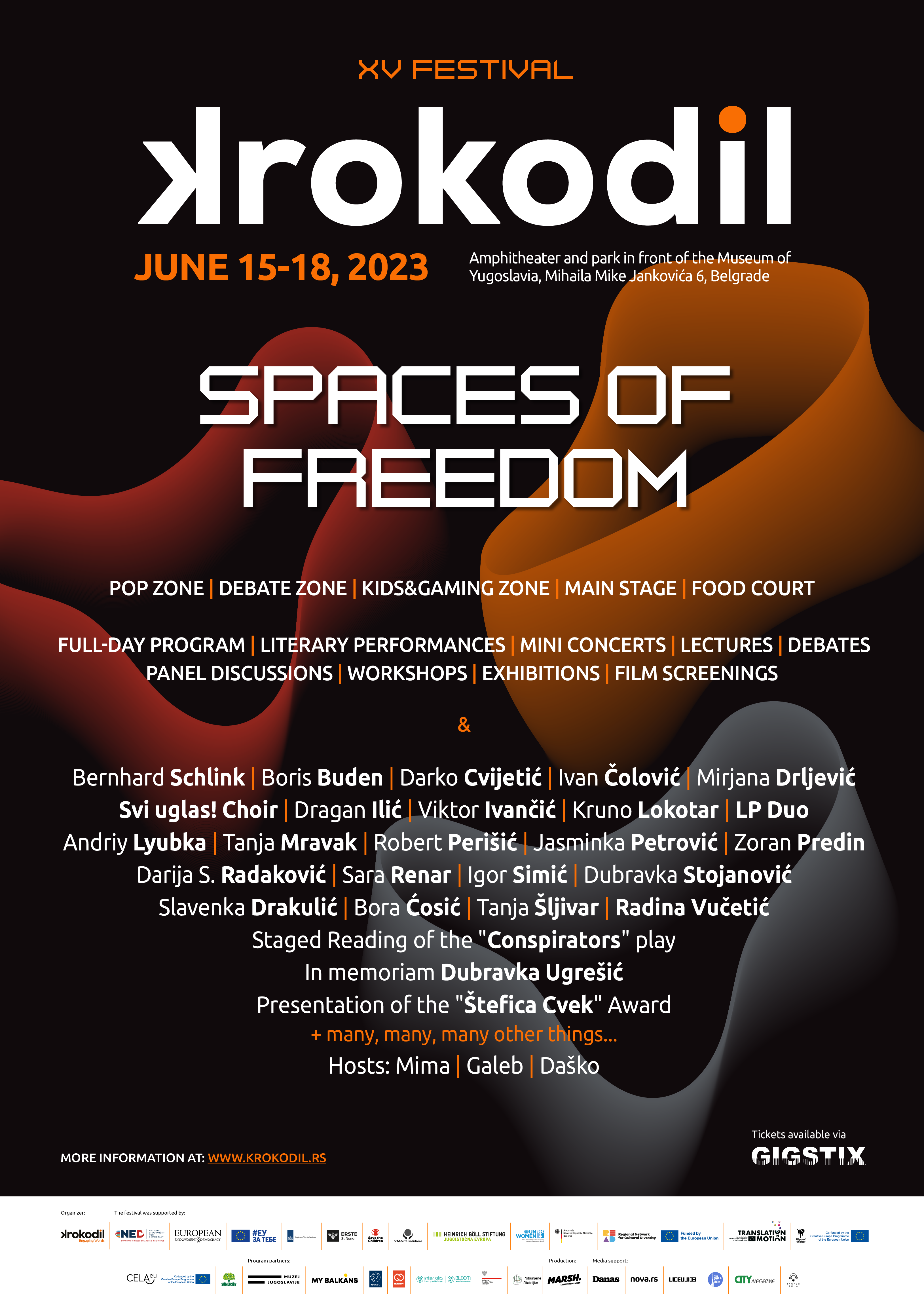 18 May

XV Festival KROKODIL – Spaces of Freedom

XV Festival KROKODIL Spaces of Freedom, June 15-18 2023, Amphitheater in front of the Museum of Yugoslavia, Mihaila Mike Jankovića 6 Belgrade

Dear friends,

We are with you for the fifteenth time, but for the first time in a new, expanded and improved format, and once again with a strong selection of writers and other literary creators, thinkers, musicians, visual artists and other creative people, thanks to whom we have been proving for years that literature and art that are being created in the area covered by our common language are not dead, on the contrary. Literature, art in general, but also the engaged word, question our reality every day, proving that basic rights are not and must not be reserved only for privileged individuals, but that, on the contrary, they belong to all of us. And that personal freedoms must not be restrained and limited by questionable conservative "values" that serve exclusively to perpetrate violence against those who are different. In other words, the written word bravely accepts the challenge in the public arena and conquers alternative zones of action. Because of all this, the KROKODIL Festival is this year being held under the title Spaces of Freedom.

Like the most famous international literary festivals, the KROKODIL Festival will this year present its program in four program units, on four stages arranged in front of the Museum of Yugoslavia. After the opening ceremony of the festival on Thursday, June 15 at 8 p.m. with a staged reading of the play "The Conspirators" based on the motifs of KROKODIL's "Common Library" edition, three rich program days await us with morning, afternoon and evening programs. We invite you to take a walk to the Museum of Yugoslavia, to bring your friends, children, pets… your favorite pillows and/or blankets and to enjoy the free programs which will take place in three distinct program zones: POP Zone, Debate Zone, and Kids and Gaming Zone, in the shade of the park and along with the phenomenal offer from our food court. During the three days of dynamic debates, panels, lectures, workshops and narrative programs, we will tackle the topics such as the violence on walls that reflects the violence in our society, aggression in public space and against minority communities, contemporary reinterpretations of fairy tales, (im)possibilities of healthy inclusion as well as the problems of invisible members of our community; we will deal with the open and closed Balkans, but also with the courage that is being made in Ukraine exposed to Russian aggression and the one related to the same circumstances and being "unmade" in Serbia, Yugoslavia and its heritage, but also with translation, residential programs as an important tool of cultural diplomacy, creative work for children, multi-linear narratives in gaming, and many other topics. The festival will be enriched by the performance of the Svi UGLAS! choir but also by the presentation of the conceptual artist Darija S. Radaković through her spatial installations and programmatic interventions. As always, the amphitheater and our famous stage "in the fountain" are reserved for the evening program, where Bernhard Schlink, Viktor Ivančić, Slavenka Drakulić, Zoran Predin, Bora Ćosić, Robert Perišić, Darko Cvijetić, but also Radina Vučetić, Dubravka Stojanović, Boris Buden, and many others will take turns in performances, readings and sofa interviews.

In a set of special mini-concerts, a neo-futuristic piano duo – LP Duo will present itself with a unique combination of classical elegance, the freedom of jazz and the power of rock and roll, then the great Sara Renar with her unique musical mix of experimental, indie and pop melodies with electronic and theatrical elements, and the legendary Zoran Predin with his special singer-songwriter performance. The evening program will be hosted by the one and onlies Galeb Nikačević, Mima Simić, and Daško Milinović.

In the atmosphere of general rebellion for the sake of (re)gaining all too easily lost or yet to be attained freedoms, what else can we say except that we are immensely happy to see you.

Come, therefore, to our common, unique, unrepeatable space of freedom!

Vladimir Arsenijević, Program Director of the KROKODIL Festival

 Download the festival program by clicking HERE.

Important information about the ticket sale for the evening program
Tickets are required only for the evening program of the KROKODIL Festival, on Friday, Saturday and Sunday, June 16, 17 and 18. Admission to other programs is free.
Tickets will be on sale from Monday, May 15 at 5 p.m. through the Gigs Tix sales network and online at new.gigstix.com, as well as at KROKODIL's Center (Karađorđeva 43) from Friday, May 19.
One-day ticket price if purchased by May 31: 750 RSD. Three-day ticket price if purchased by May 31: 2100 RSD.
One-day ticket price if purchased from June 1 to 15: 850 RSD. Three-day ticket price if purchased from June 1 to 15: 2400 RSD.
One-day ticket price if purchased at the venue on June 16, 17 and 18: 950 RSD.
One-day ticket price for students and pensioners: 600 RSD.
The organizer of the KROKODIL Festival is Association KROKODIL.
The Festival is supported by: National Endowment for Democracy, European Endowment for Democracy, EU in Serbia, Embassy of the Kingdom of the Netherlands, ERSTE Stiftung, Save the Children, Terre Solidaire, Heinrich Boll Stiftung, UN Women, Embassy of the Federal Republic of Germany, European Union through the READ project, European Commission through the Creative Europe program that co-finances CELA, Translation in Motion, and Ulysses' Shelter projects, Somersby.
Program Partners: Museum of Yugoslavia, My Balkans foundation, forum ZFD, Inter Alia, Nordeus, Embassy of the Republic of Poland, and Pobunjene Čitateljke.
Media Partners: Danas, Nova, City Magazine, LiceUlice, Oblakoder, and Tampon Zona.
Technical Production: Marsh Creative Production.
The KROKODIL Festival (an acronym that stands for Literary Regional Gathering That Alleviates Boredom and Lethargy) is a literary festival presenting in a unique and original way local, regional and international literature in its full scope – without generational, poetic, gender, or any other form of exclusion. With its modern and dynamic approach in presenting writers, consisting of readings with the use of modern video and audio media, musical and stage performances, and a broad selection including poetry, prose and drama, since its founding in 2009 the KROKODIL festival has become one of the most successful literary events in the region. Fourteen summer festivals have been organized thus far, and over fifteen guest editions of our festival in nine European countries, with the participation of nearly four hundred writers from the country, region and Europe.