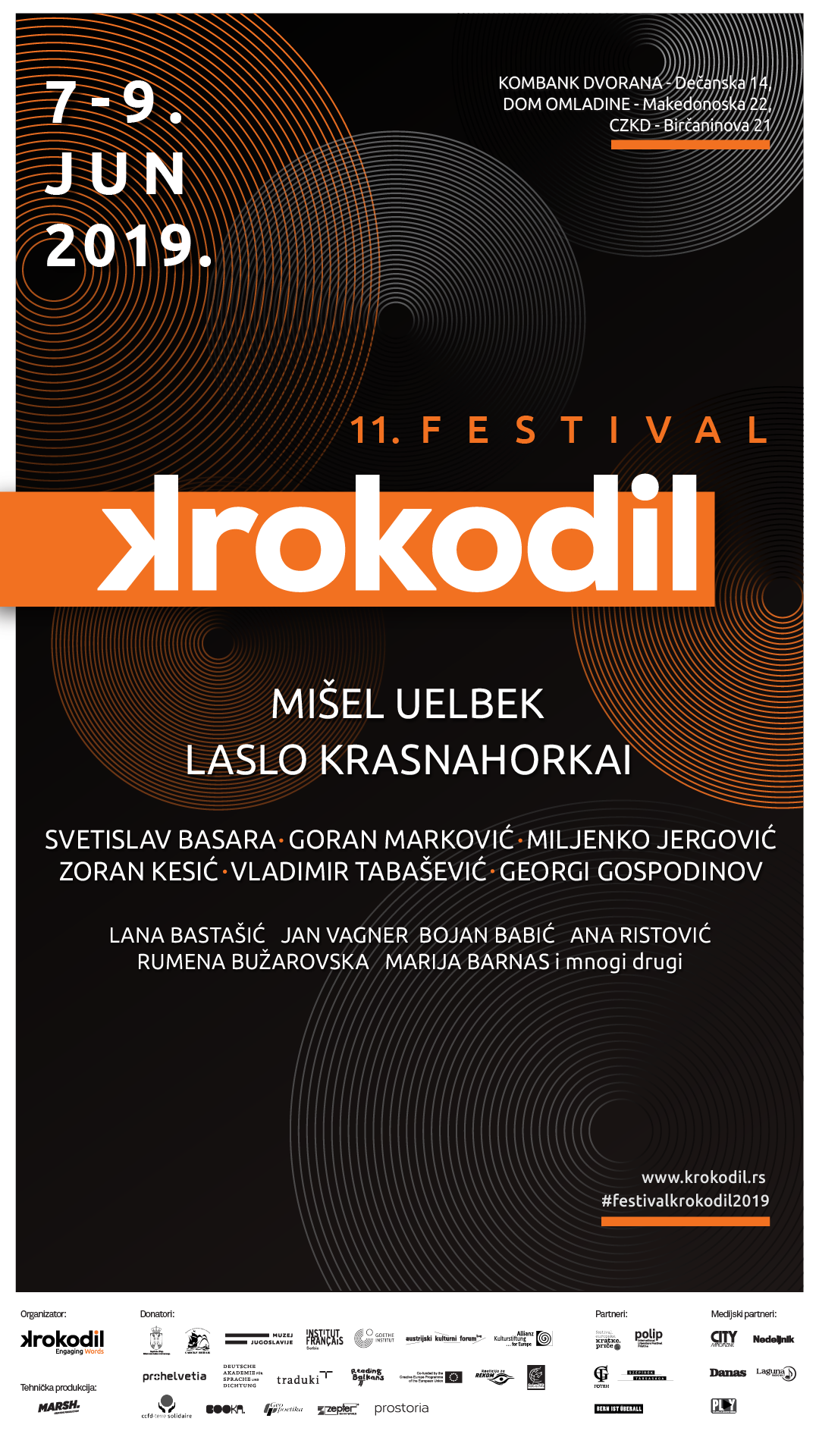 24 May

Program of the FESTIVAL KROKODIL 2019

FESTIVAL KROKODIL #11, 2019.
Evening program: June 7 , from 8pm, Kombank dvorana, 14 Decanska street, Belgrade. Entry with a fee.
                                  June 8, from 8pm, Dom omladine, 22 Makednoska street, Belgrade. Entry with a fee.
Debate program: June 8 and 9, from 12pm (noon), Centre for Cultural Decontamination, 21 Birčaninova street, Belgrade. Free entry.
Additional programs: June 7, 8 and 9 June, KROKODIL Center, 43 Karađorđeva street (entrance: 1a Male stepenice street), Belgrade. Free entry.
http://www.krokodil.rs/
#festivalkrokodil2019
FESTIVAL STAGE, I night
(June 7 , from 8pm, Kombank dvorana, 14 Decanska street, Belgrade. Entry with a fee.)
Main star of the first evening of the eleventh literary festival KROKODIL is Michel Houellebecq, French writer who for more than two decades has been hailed as one of the biggest global names of contemporary literature. On Friday, June 7 "French Orwell", as he is sometimes called, enfant terrible of present day French literature and one of the most provoking writers of our age will talk about himself, his works and his complex relationship with France. The actor Boris Isaković will read an excerpt from Houellebecq's most recent novel "Serotonin".
Also during the first evening of the festival, writers such as Vladimir Tabašević, whose novel won this years NIN prize, the guest from Northern Macedonia Rumena Bužarovska and one of the most distinguished contemporary authors Bojan Babić will present their work through public reading while sofa-interview is reserved for our legendary film and theatre director and writer – Goran Marković.
FESTIVAL STAGE, II night
(June 8, from 8pm, Dom omladine, 22 Makednoska street, Belgrade. Entry with a fee.)
One of the biggest European authors today, Bulgarian writer Georgi Gospodinov will present his work during the second festival evening.  Lana Bastašić, young Bosnian writer who resides in Barcelona, Spain, will read from her first novel "Uhvati zeca" (Catch the Rabbit), while popular comedian Zoran Kesić and the satirical fake news website Njuz.net will traditionally be in charge of providing comic relief between the writers' presentations.
The highlight of the second festival evening on Saturday, June 8 will be the presentation of László Krasznahorkai who belongs to some of the most important and most translated Hungarian novelists. In the discussion with Marko Čudić, Krasznahorkai will talk about his writing, characterized by apocalyptic, ironic and parodical overview of contemporary Hungary and contemporary world.
The focus of the second festival evening will also be the joint performance of the two distinguished regional authors Miljenko Jergović from Croatia and Svetislav Basara from Serbia.
Special feature of this year's festival is the presentation of large anthology of European poetry, recently published in Germany under the title "Grand Tour – Europe in Poems ", edited by Jan Wagner and Federico Italiano. During both festival evenings, the two of them will present this unique journey through the young poetry of Europe via the selection of some of the most distinguished poets, among whom are Maria Barnas from Netherlands, Gabor Schein from Hungary, as well as our well known poet Ana Ristović and Anja Golob from Slovenia.
The entire program will be moderated by Mima Simić.
The tickets for the evening programs on the festival stage are on sale from April 15. The price of one-day ticket for the festival is 450 dinars, while two-day ticket costs 800 dinars. These prices are valid until May 10. We also offer special discounts to pensioners and students, with a unique price of a daily ticket in the ammount of 350 dinars. Entry is entirely free for children up to 10 years of age. The tickets can be purchased at KROKODIL Centre (Karađorđeva 43, the entrance from the top of the stairs located on the side of the building, overlooking the bridge) each day from 10am until 10pm. The tickets can be purchased online via www.ddtickets.rs or in all Emmi shops throughout Serbia. For additional info please visit www.ddtickets.rs.
DEBATE PROGRAM
(Centre for Cultural Decontamination, 21 Birčaninova street, Belgrade.)
Debate program will be held on Saturday, June 8 and Sunday, June 9 from 12pm (noon) in Belgrade's Centre for Cultural Decontamination. This year, festival KROKODIL, as usual, prepared various public debates in which participating writers and other artists will deal with some of the most pressing social and political topics from the perspective of culture.
The discussion entitled "Neighbors – Facing the present" will open this years' debate program on Saturday, June 8, at 12pm (noon). Rumena Bužarovska from Northern Macedonia, Kozmin Perta from Romania, Ferenc Cinki from Hungary, Georgi Gospodinov from Bulgaria and Lana Bastašić from Bosnia and Herzegovina will talk about the sharp rise of far right movements and resurgence of nationalism, as well as various versions of stabilocracy that exist in the region of Central and South-East Europe, together with protectionism motivated by economic crisis and migrant waves from the Middle East.
In the second debate dedicated to the "Grand Tour" anthology, also on Saturday, June 8, but starting at 2pm, some of the most important European poets will discuss the role of poets and poetry in times of dissipation of existing values,.
Following the project "Languages and Nationalisms", which dealt with the complex question of reality of the existance of four political languages in the region of former Yugoslavia, as well as its grand finale – the now very well known "Declaration on the Common Language", Association KROKODIL initiated the new project entitled "Common Library". This project also deals with the subject of language, but this time from the angle of literature and essay. On Sunday, June 9 at 12pm we will organise the discussion on the topics of common library and the possibility of common literature, or the literature of the language instead of national or even ethnic literary selections. Participants: Igor Štiks, Vladimir Arsenijević, Miljenko Jergović and Lana Bastašić.
Entry for all debate programs is free of charge.
ADDITIONAL PROGRAMS
(7, 8 and 9 June, KROKODIL Center, 43 Karađorđeva street /entrance: 1a Male stepenice street/, Belgrade.)
On Friday, June 7, from 2pm Michel Houellebecq will sign his books and meet his fans in KROKODIL Centre (booking is closed) as well on June 8 from 2pm in Bookastore.
On Sunday, June 9, from 7pm, in KROKODIL Centre there will be a performance by a group of young poets dedicated to oral poetry. This presentation will be preceded by four days of workshops which will be moderated by reknowned artists from Switzerland, Serbia and Kosovo, gathered around the program entitled The Word Literary Forum.
For a third year in a row, Festival KROKODIL has  a humanitarian character. This year, we will present the humanitarian cause "For Superhero Babies" and invite the audience to donate to the activities of the Institute of Neonatology, Belgrade, Serbia.
The team working in the Intensive care of the Belgrade Institute of Neonatology – dr Hajdarpašić, dr Stoiljković, dr Jovanović, dr Kovačević and others – relentlessly work around the clock in order to help the prematurely born babies to survive and grow. Dedication, effort and love of these experts are immeasurable and unconditional, as well as their expertise and conscience.
But this is not all that these superhero babies need. Respirators and tubes, infusion pumps are just some of the things that the Institute of Neonatology is missing.
The entry to additional programs is also free of charge.
Organisor: Association KROKODIL.
Support: Ministry of Culture and Information, Tourist organisation of the City Municipality Savski venac, Museum of Yugoslavia, Institut français de Serbie, Goethe-institut, Kulturforum Belgrad, Prohelvetia, Allianzkulturstiftung, Deutsche Akademie für Sprache und Dichtung, Traduki, forum ZFD, CCFD-Terre Solidaire, Booka, Geopoetika, Zepter, Prostoria.
Program is realised under the Reading Balkans project which is co-finansed by the Creative Europe program of the European Union and under the project CSO activism for regional  reconsiliation in the former Yugoslavia – In Support of RECOM, supported by the European Union.
Partners: Festival of the European short story, Goten, SZÉPÍRÓK TÁRSASÁGA, Polip festival and Bern ist überall.
Media partners: Nedeljnik, Danas, City magazin, Laguna radio, Play radio.
Technical production: Marsh Creative Production.
*
Festival KROKODIL (Literary Regional Gathering That Prevents Boredom And Letargy) is a literary festival that in a unique and original way presents literature of the region in its full extent – without generational, poetic, gender or any other type of exclusiveness. Since its inception in 2009, owing to its modern and dynamic approach in presenting public readings comprised of reading and the usage of modern video and audio media, as well as a wide range of literary genres including poetry, prose and drama, the KROKODIL Festival has become one of the most successful literary events in the region. So far ten summer festivals and twelve visiting editions of the festival in seven European countries were organized, with the participation of over two hundred writers from the country, the region and Europe.