06 May

The WORD LITERARY FORUM Open call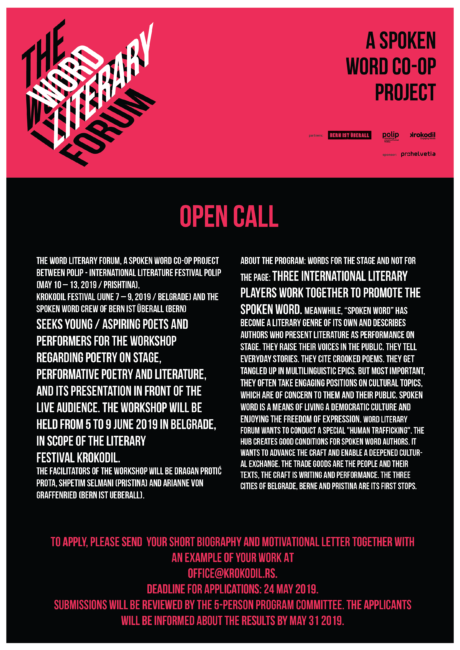 The WORD LITERARY FORUM, a Spoken Word Co-op Project between polip – International Literature Festival POLIP (May 10 – 13, 2019 / Prishtina), KROKODIL Festival (June 7 – 9, 2019 / Belgrade) and the Spoken Word Crew of Bern ist überall (Bern) seeks young / aspiring poets and performers for the workshop regarding poetry on stage, performative poetry and literature, and its presentation in front of the live audience. The workshop will be held from 5 to 9 June 2019 in Belgrade, in scope of the literary festival Krokodil. The facilitators of the workshop will be Dragan Protić Prota, Shpetim Selmani (Pristina) and Arianne von Graffenried (Bern ist ueberall).
About the program: Words for the stage and not for the page: three international literary players work together to promote the spoken word. Meanwhile, "Spoken Word" has become a literary genre of its own and describes authors who present literature as performance on stage. They raise their voices in the public. They tell everyday stories. They cite crooked poems. They get tangled up in multilinguistic epics. But most important, they often take engaging positions on cultural topics, which are of concern to them and their public. Spoken word is a means of living a democratic culture and enjoying the freedom of expression.
To apply send your short biography, motivational letter together with a example of your work at office@krokodil.rs. Deadline for applications: 24 May 2019.
Submissions will be reviewed by the 5-person Program Committee. The applicants will be informed about the results by May 31 2019.
Word Literary Forum wants to conduct a special "human trafficking". The Hub creates good conditions for Spoken Word authors. It wants to advance the craft and enable a deepened cultural exchange. The trade goods are the people and their texts, the craft is writing and performance. The three cities of Belgrade, Berne and Pristina are its first stops.