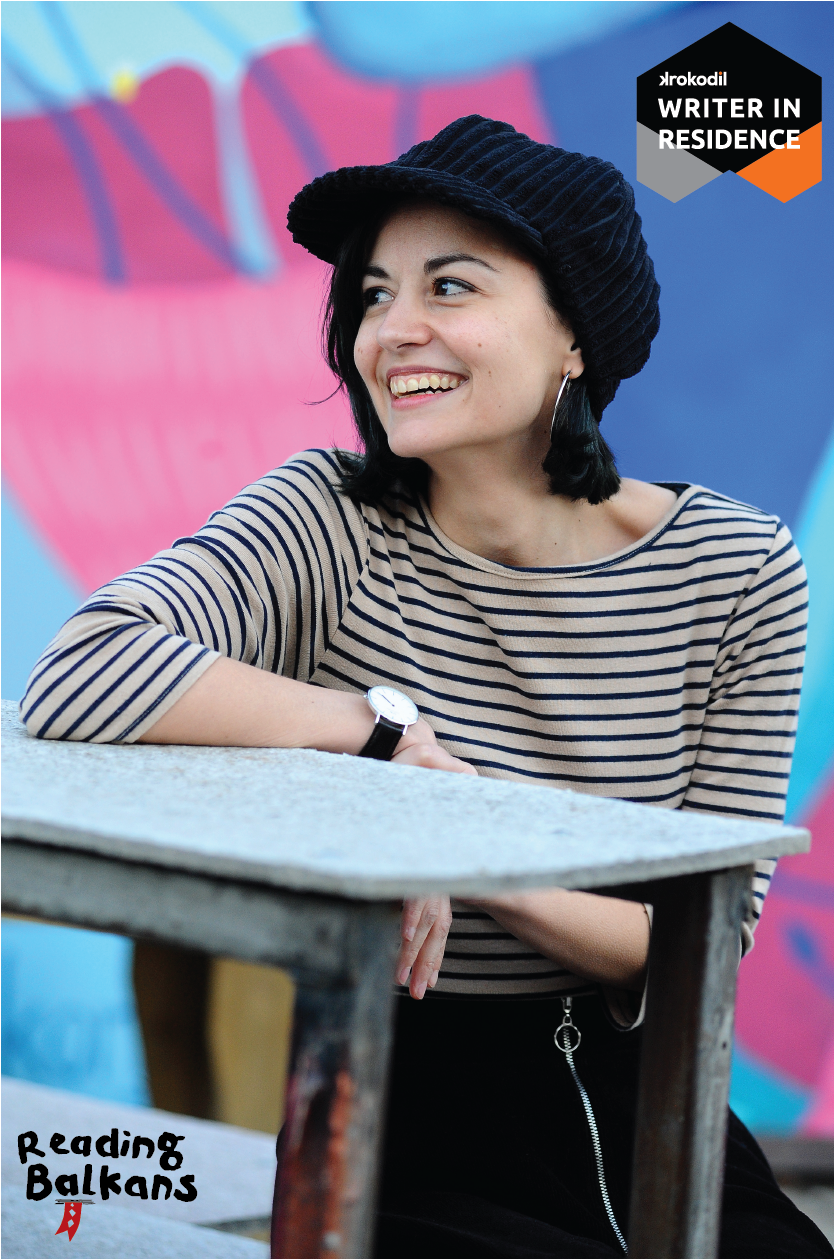 18 Jun

May in KROKODIL's Writer-in-residence – Lana Bastašić

Lana Bastašić was the 82nd guest of KROKODIL's Writer-in-residence program, in May 2019.
After the creative writing workshop entitled "From short story to the first novel – ten tips" which was held on 11 May in KROKODIL's Centre, Lana performed on:
16 May in Polet gallery, in the roundtable discussion "Contemporary Serbian proze today" with Tanja Stupar Trifunović. The talk was moderated by Vule Žurić.
17 May in Apolo hall in Pancevo – together with Tanja Stupar Trifunović.
22 May in the bookshop Bulevar Books in Novi Sad. Lana has discussed her novel "Catch the rabit" with moderator Bojan Krivokapić. 

Lana Bastašić (Zagreb, 1986) is a Bosnian writer. She studied English Language and Literature and holds an MA degree in Cultural Studies. She has published two collections of short stories, one book of children's stories, and one of poetry. "Catch the Rabbit", her first novel, was published this year in Belgrade, Kontrast, and was shortlisted for the NIN award. Her short stories have been included in major regional anthologies throughout former Yugoslavia. She has won the Best Short Story Award at the 'Zija Dizdarević' competition in Fojnica, Bosnia; the Jury Award at the 'Carver: Where I'm Calling From' festival in Podgorica, Montenegro; the Best Short Story Award at the 'Ulaznica' festival in Zrenjanin, Serbia; Best Play by a Bosnian Playwright Award at the competition organized by Kamerni teatar 55 in Sarajevo, first award for best unpublished poetry collection in Zrenjanin, and Targa UNESCO Prize for poetry at the Castello di Duino festival in Trieste, Italy. She collaborates with various literary magazines in the Balkans, most notably Polja, Povelja, Sarajevo notebooks and Putevi. In 2016 she co-founded Escola Bloom with Borja Bagunyà and she co-edits the school's literary magazine Carn de cap. She lives and works in Barcelona.

Reading Balkans is a regional project aiming at the promotion of literature from Western Balkans through the exchange of writer-in-residence programs in seven countries, cooperation with other countris which share similar historical circumstances (Cyprus, Ukraine), as well as educating the literary agent who will represent regional authors in the international publishing scene.

KROKODIL's Writer-in-Residence

Association KROKODIL established the first continuous residential program for writers – KROKODIL's Writer-in-residence, in 2012, through development of stable relations with partners in the country, region and abroad, with regard to similar and very popular programs of European metropolas. From 2012, writers from many regional and European countries have been coming on a monthly basis to live, work and create in Belgrade.