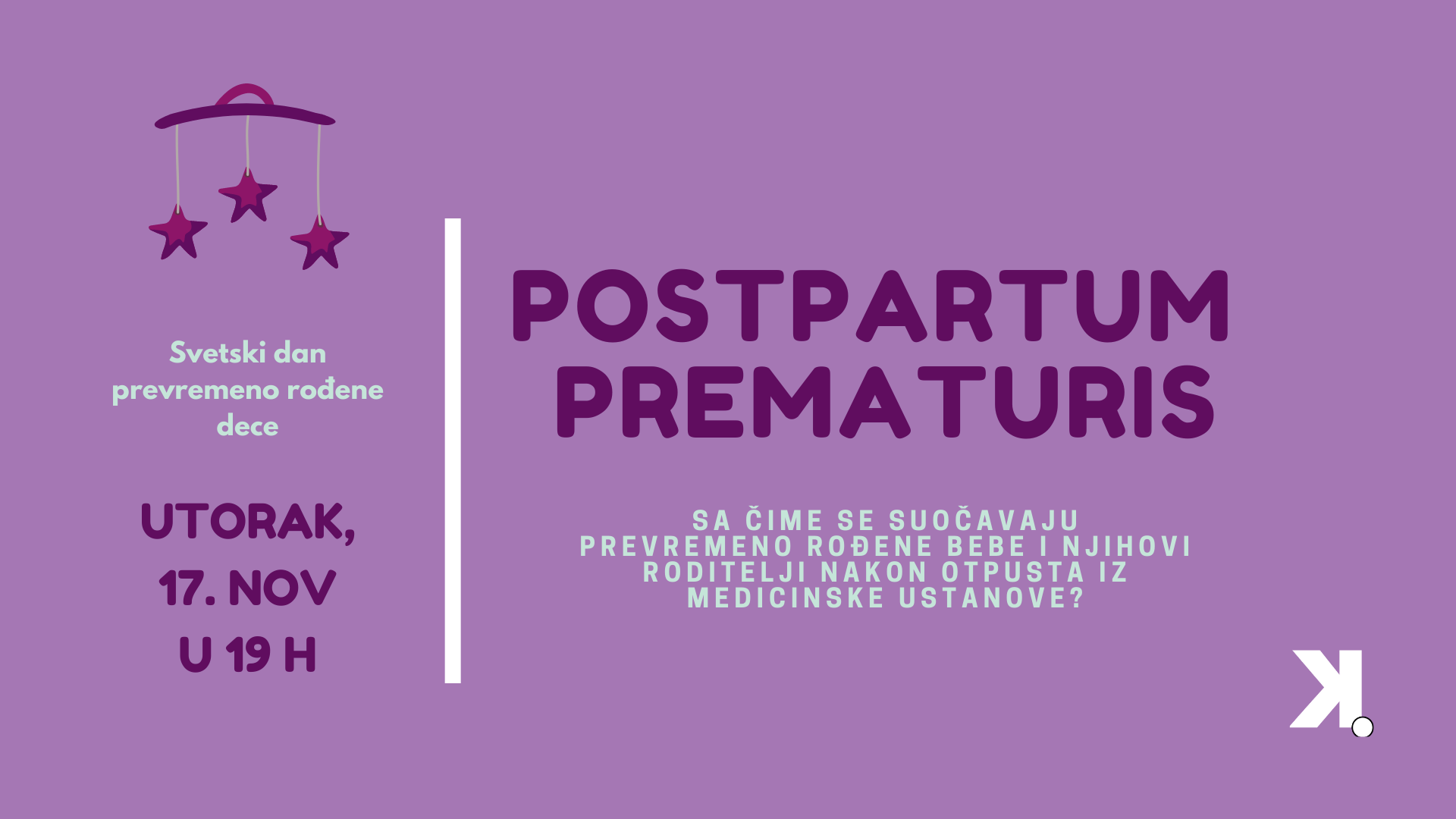 10 Nov

Marking world prematurity day with "Postpartum prematuris"

Tuesday, November 17 at 7pm

KROKODIL Center

Karađorđeva street 43 (entrance from Male stepenice)

The number of guests is limited and reservations are mandatory via our email address office@krokodil.rs

On Tuesday, November 17 at 7pm we'll be traditionally marking World Prematurity Day with a conversation at the KROKODIL Center and via our YouTube channel @krokodilengagingwords called "Postpartum prematuris".

Milena Berić from the Association KROKODIL will be talking to young activist journalist Lana Nikolić. The discussion will be about the troubles prematurely born babies and their parents face once they leave medical establishments, as well as the many life challenges that remain ahead of them.

During the month of November, the KROKODIL Association launched a digital campaign with the aim to raise awareness of premature birth. Famous and less famous journalists, bloggers, painters, influencers and others filmed a video in which they remind us of some of history's most important figures born prematurely.

Many parent associations, professional organisations, companies and individuals around the globe are now  marking World Prematurity Day. This day has been added to the calendar of the World Health Organisation in 2011 as a day dedicated to raising awareness of the challenges prematurely born babies and their families face.

One out of every ten babies around the world is born prematurely. There are 15 million babies born before their due date every year. In Serbia, there are more than 4000 premature births a year. .

A premature birth is defined as a birth that has happened three or more weeks before the due date. Premature labour is a serious health problem, and many babies lose the fight. Babies born before their due date usually have problems with their breathing functions, hearing, sight, as well as developmental difficulties. Babies that were born earlier than expected spend on average their first 50 days at the Institute for Neonatology.

Book your places for this event in advance via our email address office@krokodil.rs

See you there!