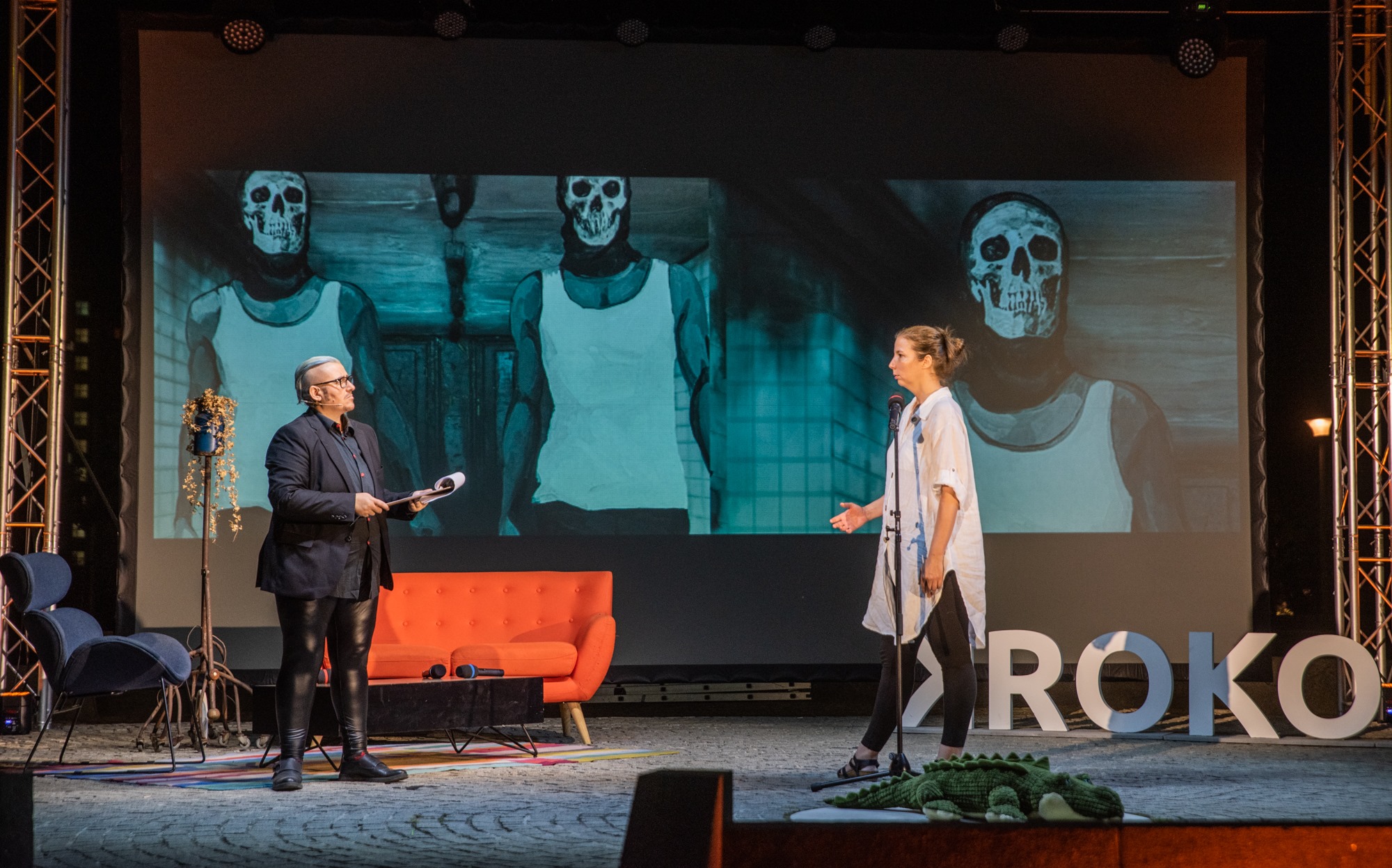 16 Oct

" I would probably have stayed in a straight line if I never had experienced the cutting" – Biljana Đurđević about the opening of her exhibition "Instruments of Activity" at the KROKODIL Center

In the luminous sunlit apartment of Biljana Đurđević, next to a TV which, in that exact moment, broadcasted a tennis match, painting canvases laid stacked together. Their grandiosity captivates immediately; they occupy almost all the room's space, from the floor to the ceiling. "This was the biggest painting I've worked on so far", the artist says. "The current size is 8m, but I plan to expand it, both in height and length."

The room wasn't constructed for a painting that big. it wasn't even constructed for half a painting. Even without any furniture, Biljana only has about 20sqm to paint in, which isn't convenient for the dimensions she works with. "I need to split the canvas, otherwise I cannot physically manage it", she adds. "I cannot rotate it, which is a problem, because I often rotate my work and cut it into smaller pieces. That made me make changes in the notion/comprehension of the third dimension. So, so to say, the struggle made me discover and implement a new practice I didn't foresee."

 One canvas shows the dark silhouette of a post light. This is the seed of inspiration, the origin of the central idea of Instruments of Activity, a graphic novel which will be published by Besna kobila on October 29th, after two years of anticipation. "I have been working on the paintings again and combining them with digital art", Biljana says. Receiving a pondering silence about the fact that she is still working on a project that is supposed to be printed in 10 days, she adds: "The question is what came first – the chicken or the egg, but because I've been working on it so long, this painting is both the chicken and the egg".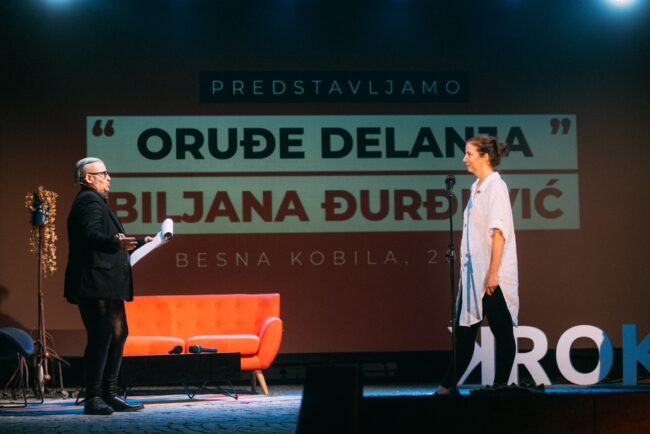 "Everything was chaotic in the first stage of production. I'd started working on the painting titled Instruments of Activity, after which the novel is named. Now a part of the collection of the Museum of Contemporary Art in Belgrade, I finished it in 2015 and became obsessed with turning it into an animation. Out of that obsession, a mood board was created". In the meantime, during her voyage into animation, the University of Contemporary Arts started cooperating with the publishing house which will print Biljana's graphic novel.
"And that's how it all started", Biljana says. "I was moving mountains until I found the final solution that you can see now. Everything was drawn by hand. The pieces of the painting are here in my apartment in the left corner."She shows the accumulated canvases in the hallway, which make up the opus of her work in the past few years. "These are all from Instruments. When I get inspired, I get inspired all the way. In fact, that brought me to this novel."
Unconventional, just like all the works by this world-renowned painter, Biljana's graphic novel breaks away from the traditional comic form. Her characters have no names, there is no formal plot and if we forget the author's closing word of the comic, which verbally shines a light on the main theme of the novel, there isn't even any text.
The phrase "Instrument of Activity talks about the apathy of man", is written on the inside, "about his inability to wake up from this newly created world in which we are only living to produce (capital). That is how this Hydra system is fed. It penetrates all aspects of life and forces consumerism as the purpose of the modern being. The manufacturer is simultaneously the consumer, programmed to slave in order to stay in a system and be a part of it. The media indoctrination has become the basic tool of manipulation of all people, no matter their apparent status."
The degree to which Biljana Đurđević herself experienced the abuse of the media is seen in the example from the painter's personal life, so it isn't a surprise that she channels that message through her work. "Social networks opened Pandora's box, from which, hope also escaped", the artist says lamenting the unfortunate conspiracy theory from 2016, which, although illogical, is still haunting her today. "There is nothing to do about it. The box is empty now".
"What happened was that some totally sensationalist and outrageous stories appeared about me and my work. There were attacks on me, so brutal I cannot say them out loud. The reading into those paintings with kids was so disgusting that I had to react. I had to draw the line and respond clearly: what you're reading into is in fact your big problem. If you're reading into all the demons of this world, they are all yours."
The first thing that welcomes you when you open Biljana's website is the following maxim: "Shamed be he who thinks evil of it". And immediately below lies the resolution to Biljana's art: "My works deal with social problems. Those who judge them and aspire to censure them are, most of the time, a part of the problem. They are verbal and psychological abusers, omnipresent across social media, where they point the finger at those who fight against the problem. They are easily spotted since they float on the surface of this miserable world."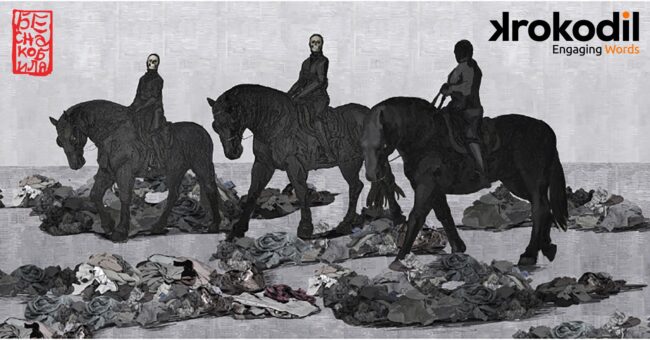 Although during the quarantine, the situation escalated with attacks on her family, death threats, and finally doxing (making her personal information and address public), the artist's life, as it appears, has calmed down. "We are just collateral damage", Biljana concludes, mentioning similar stories in which other artists have also suffered. Among them is the infamous Marina Abramović, with whom Biljana is often linked.
Fortunately or unfortunately, as Biljana says, at least she can paint. "Everything that is in my head, which is seriously chaotic, I throw out on a canvas. Catharsis usually happens. For a period of time, I didn't experience it, and it was rather painful. The previous work cycle didn't come with "the reward" in terms of relief, but still, something made me continue painting. Because catharsis is the reward. I know I sound simple, but it's the truth. Catharsis cleanses you and ejects things that won't return again."
She never remembers the process of creating works, so she is free to say that every work cycle was the same. "Maybe it's a blessing. Not maybe, certainly! When you don't know how you worked on a piece of art, it is much better for your next one." She doesn't even know when she finished a certain cycle, only that she has had enough and she cannot look at her paintings anymore. She explains: "I guess it was always complicated. I tend to complicate everything I can, but I do have a group of dear people, who, when winds get too hard to bear, hold me like a rudder, so it all doesn't go to hell."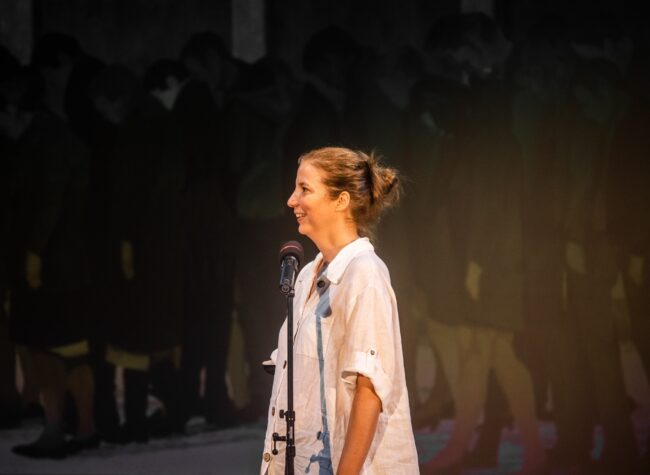 The rudder was held back. At the end of the month, we are officially expecting Instruments of Activity out on sale. In that name, Biljana Đurđević, together with the designer Borut Vild and art historian Branislav Dimitrijević, will open an exhibition of the same name on October 29th at KROKODIL Center, where, at least until the end of the year, storyboards from her graphic novel will be exhibited.
Biljana also made an appearance at this year's KROKODIL literary festival, where she promoted Instruments. "I love that festival", the painter said, as she looked back on the fact that all her works are built upon literature and philosophy. "I used to come to the festival before, but as the audience. I am terribly pleased that there is a festival connected with books, but leaves behind the two dimensions and drives towards media fusion". That's why, after chatting with Vladimir Arsenijević, writer and creative director of the KROKODIL Organization, she decided to hold her exhibition there.
From the forthcoming exhibition, for which she has yet to decide how to dismantle and arrange the scenes from her graphic novel, she expects only flowers and a cake. As she said in the beginning, when talking about the dismantlement of paintings and discovering new dimensions: "I would probably have stayed in a straight line if I never had experienced the cutting (of canvases)". And it seems, that goes for everything else in her life as well.