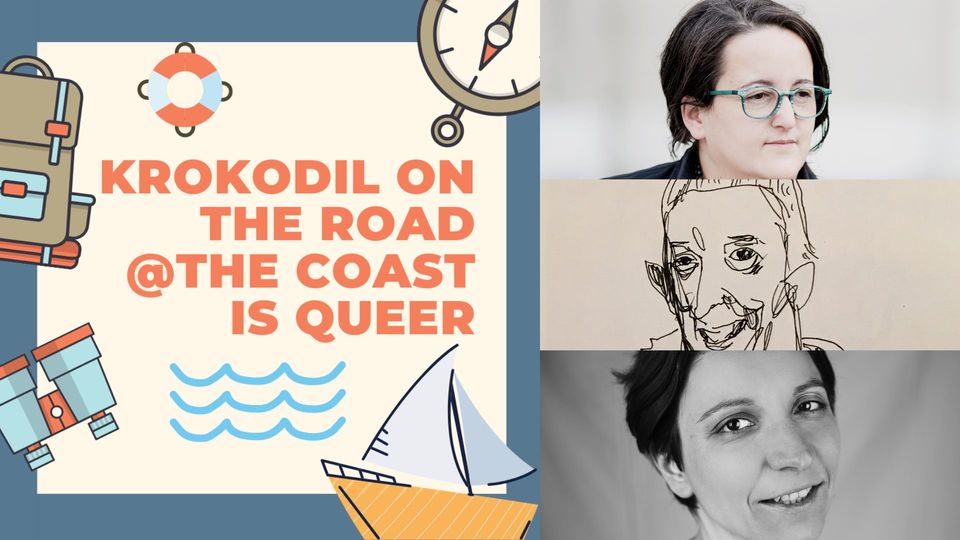 28 Jan

KROKODIL On the Road @ The Coast is Queer: WRITERS FROM THE POST-YUGOSLAV REGION

Saturday, February 6th at 2:30pm
Online panel discussion
Working language: English
The event is free and can be booked on the website http://coastisqueer.com/


Over this unsettling time as the UK has fractured from the EU, LGBTQ rights are increasingly threatened and the world comes to terms with the COVID pandemic, Coast is Queer is pleased to welcome Festival Krokodil in a defiant rejection of physical and symbolic borders between Brighton and Belgrade, Britain and Europe, the 'East' and the 'West'. LGBTQ rights and their consequent social inclusion are still a contentious topic in the post-Yugoslav region, yet over the last couple of decades there has been a growing body of queer literature by openly queer writers. The panel showcases some of the best queer writing from the post-Yugoslav region and launches a new collaboration between KROKODIL, New Writing South and the University of Brighton.

With Lejla Kalamujić (Bosnia and Herzegovina), Anja Golob (Slovenia), and Dragoslava Barzut (Serbia).

Chaired by Dr Vedrana Veličković, University of Brighton.Association KROKODIL (http://www.krokodil.rs/eng/about-us/) is dedicated to production of literary, cultural and sociopolitical programs and projects with the aim of developing literary audiences and those that are interested in culture as such, promotion of the culture of dialogue, reconciliation and reconstruction of the broken links particularly in the region of the Western Balkans but also in deepening of the mutual understanding and the acceptance of differences in the European context and elsewhere. Through advocacy, litigation, and public campaigns, Association KROKODIL stands up for human rights in Serbia and the region. By executing programs, debates, as well as initiatives focused on raising visibility of the LGBTQ+ community, KROKODIL contributes to lowering prejudices and stereotypes. Furthermore, KROKODIL is an active partner of Pride Week and Belgrade Pride.

Lejla Kalamujić, born 1980 in Sarajevo, graduated at the Department of Philosophy and Sociology at the University of Sarajevo. She is the author of the two collections of short stories The Anatomy of a Smile and Call Me Esteban. She is also author of the book of plays "Hands full of Clouds". Her second book Call me Esteban won the Edo Budiša Prize for best collection of short stories. She has won many literature awards for short stories and was awarded various residencies and fellowships. Her stories have been translated into English, German, French, Italian, Macedonian, Slovene, Polish, Romanian, Albanian and Lithuanian.

Anja Golob (1976) has so far published four books of poetry in Slovene, one poetry-collaboration in German, selections of poems and other texts in numerous magazines, and about 750 theatre critiques. Her 2nd and 3rd book were both awarded the Jenko Poetry Prize for best Slovene collection in past two years (2014 & 2016), her fourth book received the prize called kritiško sito (2020) for best Slovene book of 2019 by the Slovene Literary Critics Association.Since January 2020 she appears regularly as a columnist in Studio City, a weekly show on national TV. She works as poet, writer and translator. In 2013 she co-founded a small publishing house VigeVageKnjige, where she's now the editor-in-chief. It specialises in publishing Slovene translations of graphic novels for both children and adults.After studying Philosophy and Comparative Literature at the Faculty of Arts in Ljubljana (Slovenia), she worked as a theatre critic for 12 years, mainly publishing in Večer, a Slovene daily. She occasionally still works as a dramaturg for contemporary art and dance performances. She is a member of Mensa. She lives between Ljubljana and Brussels.

Dragoslava Barzut (Crvenka, Novi Sad, 1984). A writer and activist. Published a collection of short stories "Zlatni metak" (Golden Bullet) in 2012, and a novel "Papirne disko kugle" (Paper Disco Balls) in 2017. Dragoslava was an editor of the anthology of lesbian short stories from the Yugoslav region "Pristojan život" (Decent Life) in 2012. Dragoslava's collection of short stories "Zlatni metak" was awarded the Đura Đukanov prize in 2012. She received the Carver prize in 2011 for the best short story in the region in the "Izvan koridora" competition. For her first novel "Paper disco balls" Dragoslava recevied the Anđelka Milić prize in 2018. "Paper disco balls" was on a shortlist of the the most significant literary awards in Serbia and region. Her writing and poetry have been translated into English, German, Slovenian, Polish and Macedonian. Dragoslava is activist at Association Da se zna!, a human rights organization that works to eliminate of all forms of violence and discrimination against all queer persons in general and establish a more egalitarian society. She lives and works in Belgrade.

Dr Vedrana Veličković (chair) is a Principal Lecturer in English Literature at the University of Brighton, where she convenes modules on Queer Writing and European literature. She is the author of Eastern Europeans in Contemporary Literature and Culture: Imagining New Europe (2019) and numerous articles on Black British and post-Yugoslav literature.

Image of Lejla Kalamujić by Dženat Dreković, image of Anja Golob by Ute Helmbold and image by Dragoslava Barzut by Radmila Vankoska.