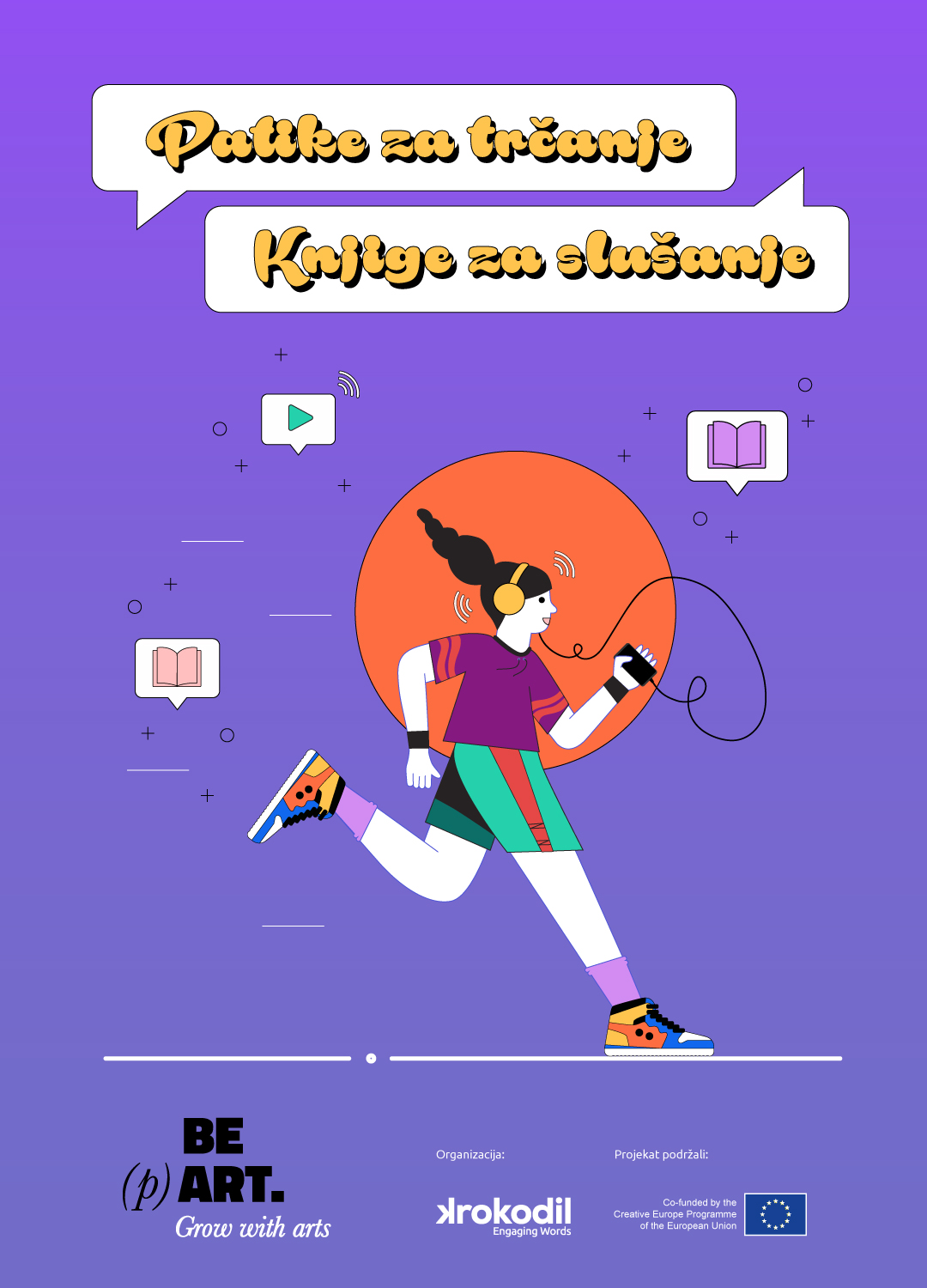 01 Aug

Audio-Marathon*Reading while Running: We have raised 232,500.00 RSD in total! Report on the implementation of the humanitarian campaign for BELhospice at the 35th Belgrade MArathon

As part of the project Audio-Marathon*Reading while Running a group of ten authors, columnists, journalists, bloggers and other enthusiasts who simply love to write and to run had been preparing for three months for one of the races within the 35th Belgrade Marathon, while listening to audio books, podcasts, radio shows, etc. They wrote about their experiences with preparations, races, as well as about the content they listened to and the topics that inspire them. The audience at the XIV KROKODIL Festival received booklets with the texts of the project participants.

KROKODIL Association's project Audio-Marathon*: Reading while Running is part of the European project BE (P)ART GROW WITH ARTS, which is being realized with partner organizations from Spain, Belgium , and Hungary: PEN Català, UC Limburg, Szepirok Tarsasaga Egyesuleteuc i Fundación Uxio Novoneyra. The focus of activities in this three-year project is bringing literature closer to younger people because of its key role in understanding the world, developing critical thinking and the skill of creatively solving problems, as well as the beneficial influence of reading and physical activity on mental health.

The project is co-financed by the Creative Europe program of the European Commission. Implementation partner is AC RUNNING.

All project participants ran one of the races at the 35th Belgrade Marathon as part of the RUNNINGSerbia team, which ran for BELhospice for the sixth time! This year we ran for children – oncology patients! We ran a half marathon, a relay race, but also a fun run. With the heat and unrealistically difficult running conditions we all finished our races even those who suffered heat exhaustion. We all crossed the finish line! We had good motivation and a reason to run!

Our goal was to raise enough funds to buy a VEHICLE with which the BELhospice team could efficiently visit their little patients on the field and thus also help their parents. HOSPICE IN THE HOUSE FOR CHILDREN is a project that aims to provide, in cooperation with the relevant healthcare and social welfare institutions, the possibility of reducing the separation of children diagnosed with incurable diseases from their families. BELhospice provides free palliative care services to oncology patients of all ages and their families. BELhospice team is composed of professional staff: three doctors, four nurses, one psychologist, two social workers and two caregivers and is the first specialized charity organization in Serbia that since 2004 provides free palliative care to patients with active, progressive, advanced disease for which the prognosis is limited.

Palliative care is an approach that improves the quality of life of patients and their families, by tackling the problems that accompany life-threatening diseases by means of prevention and elimination of suffering through early detection and unmistakable assessment and treatment of pain and other problems: physical, psychosocial and mental. BELhospice provides comprehensive support and specialized care to oncology patients in the advanced stages of the disease and their family members; BELhospice is committed to the development of palliative care at the national and regional levels through the education of professionals and the public, as well as consultation and cooperation with relevant institutions in order to improve legislation.

By supporting BELhospice since 2014, we firmly stand by the conviction that palliative care is a human right. We also support the vision of BELhospice that all oncology patients in Serbia, in the advanced stages of the disease, should have access to adequate palliative care in order to reduce their suffering and preserve their dignity.

For more information about the work of BELhospice visit: www.belhospice.org

List of donors / donated amount in the payment order: KROKODIL Association 117,800.00 RSD Nada Stojanović 4,000.00 RSD Ana Stojanović 3,600.00 RSD Aleksandar Rakić 3,600.00 RSD Biljana Rašić 3,600.00 RSD Dragana Stojiljković 3,600.00 RSD Ivana Drmanac 5,000.00 RSD Marija Rajić 3,600.00 RSD Daliborka Jović Stanković 4,000.00 RSD Jelena Arsić 5,000.00 RSD Nemanja Marković 2,000.00 RSD Ivana Pavlović 3,600.00 RSD Jelena Jerinić 3,600.00 RSD Goran Vučićević 3,600.00 RSD Nenad Obradović 3,600.00 RSD Milan Adnađ 4,000.00 RSD Saša Bradašević 3,600.00 RSD Jelena Arsić 1,000.00 RSD Ana Toskić 12,000.00 RSD Predrag Topić 4,000.00 RSD Ivana Lukić 6,000.00 RSD Stefana Pekez 3,600.00 RSD Ivan Čurović 3,000.00 RSD Marina Adomeit 6,000.00 RSD Ivan Stokić 6,000.00 RSD Milica Lazarević Jekić 3,000.00 RSD Jelena Visački 1,500.00 RSD Milena Berić 5,000.00 RSD Vladimir Arsenijević 3,600.00 RSD. Total funds transferred to BELhospice 232,500.00 RSD.