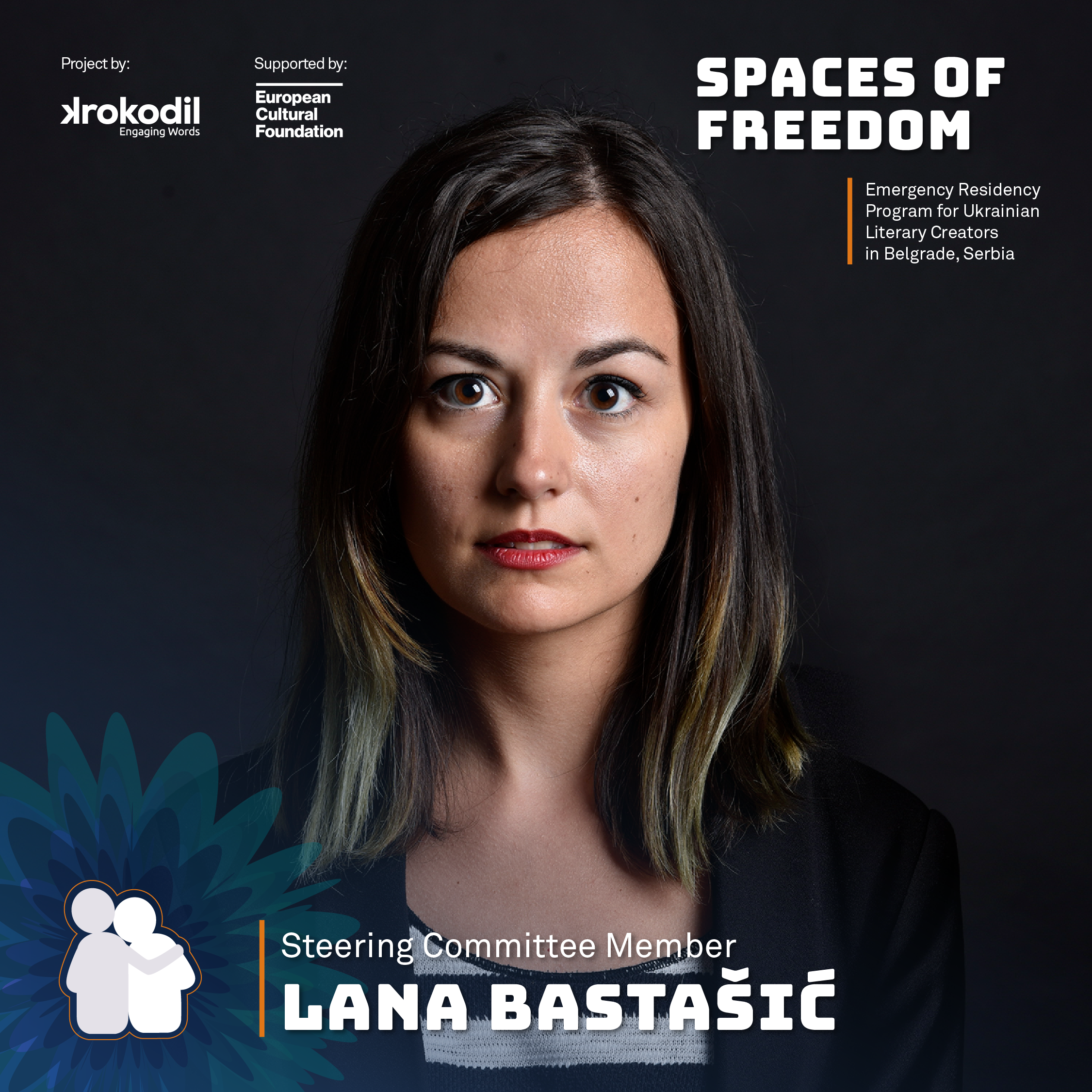 27 Aug

MEMBERS OF THE INTERNATIONAL STEERING COMMITTEE ON THE PROJECT SPACES OF FREEDOM

Lana Bastašić photo creds Edi Matić

We proudly present to you the members of the International Steering committee on the project SPACES OF FREEDOM: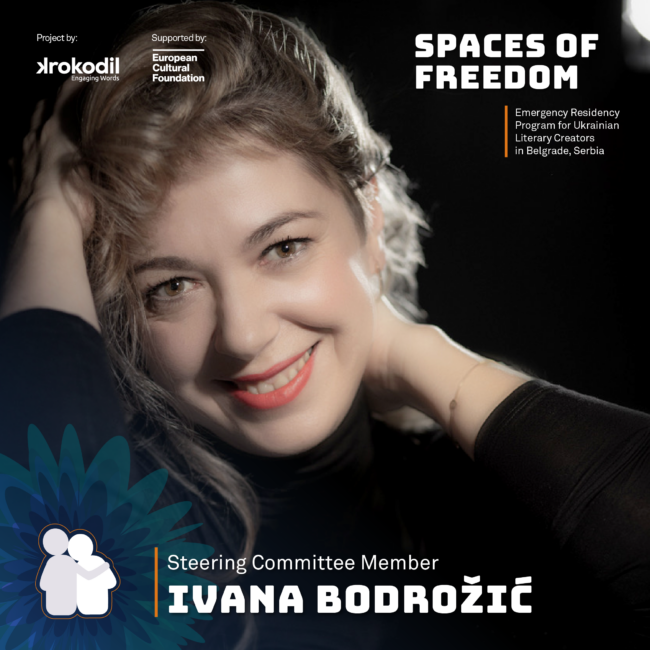 IVANA BODROŽIĆ (1982, Vukovar, Croatia) is a writer and poet. She spent part of her childhood in Kumrovac, and attended gymnasium in Zagreb. She has a master's degree in philosophy and Croatian studies from the Faculty of Humanities and Social Sciences in Zagreb. She is the author of numerous award-winning and translated collections of poetry and novels such as "Prvi korak u tamu" (First Step into the Darkness), "Hotel Zagorje", "Prijelaz za divlje životinje" (Overpass for Wild Animals), "100% pamuk" (100% cotton), "Rupa" (Hole), "In a Sentimental Mood", among others. Her works have been translated into a dozen foreign languages, and for her literary work she has been awarded prestigious domestic and foreign awards such as the Goran award for young poets; Cyclops, award for the best novel; Prix Ulysse, award for the best debut novel from the Mediterranean countries; Kočić's pen; Edo Budiša; Meša Selimović; Balkan Noir, and others.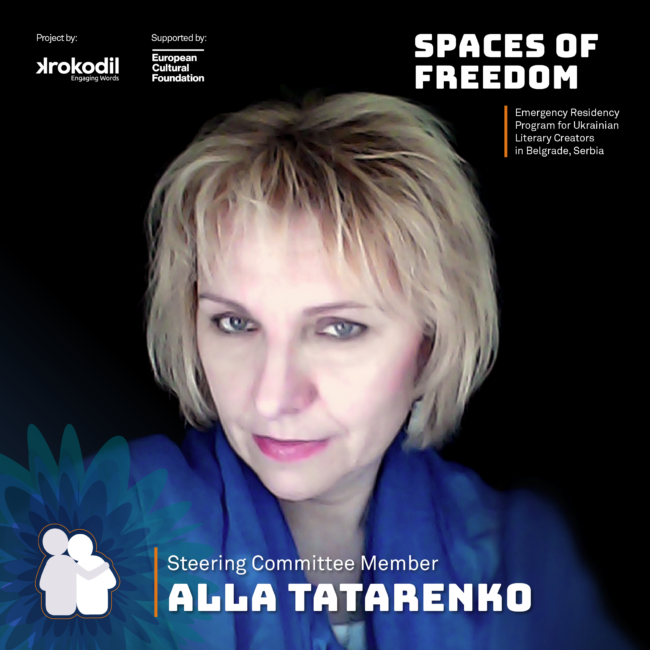 ALLA TATARENKO is a translator, literary critic, professor of the Ivan Franko National University of Lviv, specialist in the history of Slavic literatures. She translates from Serbian and Croatian to Ukrainian, and from Ukrainian to Serbian and Croatian. She is an author of 6 books in Serbian and Ukrainian languages. She has published more than 90 translations.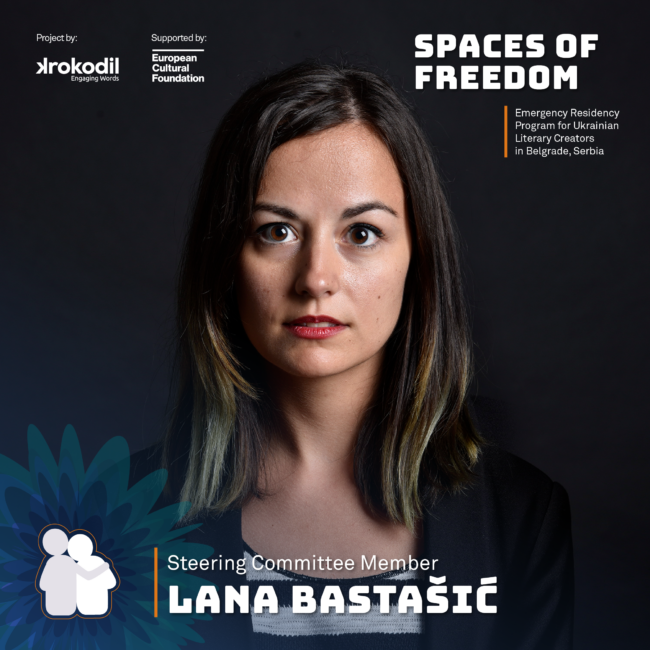 LANA BASTAŠIĆ (1986, Zagreb, Croatia) is a writer. She grew up in Banja Luka, where she graduated in English and communication studies. She defended her master's thesis in cultural studies at the Faculty of Political Sciences in Belgrade. She is the author of a novel, three short story collections, a poetry collection and a children's book. Her debut novel "Catch the Rabbit" was shortlisted for the 65th NIN award for the best novel in 2018. She is the winner of the 2020 European Union Prize for Literature for the novel "Catch the Rabbit", which has been translated into eighteen languages. She received several awards for short stories, two awards for poetry as well as an award for an unpublished play. Her works were included in several regional anthologies of short stories. She participated in many international literary festivals and residencies for writers. She is one of the founders of a school of literature "Bloom" in Barcelona and a member of the PEN Center of Bosnia and Herzegovina. Sometimes she lives in Belgrade. Photo creds Edi Matić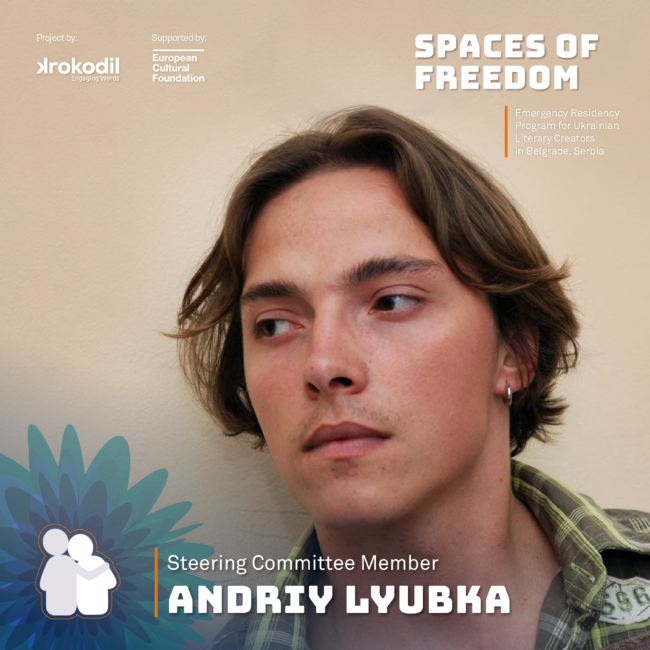 ANDRIY LYUBKA (1987, Riga, Latvia) is a Ukrainian poet, writer, essayist and translator. He graduated from the Mukachevo Military School and went on to study Ukrainian Philology at Uzhhorod National University and Balkan Studies at the University of Warsaw. His books of poetry include Eight Months of Schizophrenia (2007), Terrorism (2009) and 40 Dollars Plus the Tips (2012). He has also published a collection of short stories, The Killer (2012), a German translation of one of his poetry collections, Notaufname (2012), a book of essays Sleeping with Women (2014), and a novel Karbid (2015), which was short-listed in the final selection of the Book of the Year by BBC Ukraine. Its Polish translation was short-listed for the Angelus Central-European Literary Award in 2017. His recent works include a collection of short stories The Room for Sadness (2016), a book of essays Saudade (2017) and the novel Your Gaze, Cio-Cio-san (2018). He is the winner of the Debut Award (2007), Kyiv Laurels (2011), recently he received literary award of Kovalev Foundation literary prize in the USA and the Shevelov Prize for the best book of essays of 2017 in Ukraine. Lyubka also translates from Polish, Croatian, Serbian, English and is the curator of two international poetry festivals.
VLADIMIR ARSENIJEVIĆ (1965, Pula, Croatia, then SFR Yugoslavia) is an award-winning and internationally acclaimed Serbian writer, translator, editor, publicist and cultural worker. He won the 1994 NIN-award for his first novel "In the Hold" (U potpalublju), thus becoming the award's youngest ever recipient. "In the Hold" was the very first debut book awarded this prestigious prize. His anti-war book was soon translated into 20 languages and placed Arsenijević almost instantly among the most translated Serbian writers. Since then, Arsenijević published ten other novels, graphic novels, collections of short stories and books of essays. His essays and columns are published in both print and online media from all over former Yugoslavia. He is also a well-known editor who formed and developed the RENDE publishing house, where he worked as Editor-in-Chief from its foundation in 2000 until 2007. From 2007 until 2011, he ran a Belgrade subsection of the Croatian publishing house VBZ. In 2009, he founded and ever since has been the head of the Association KROKODIL.