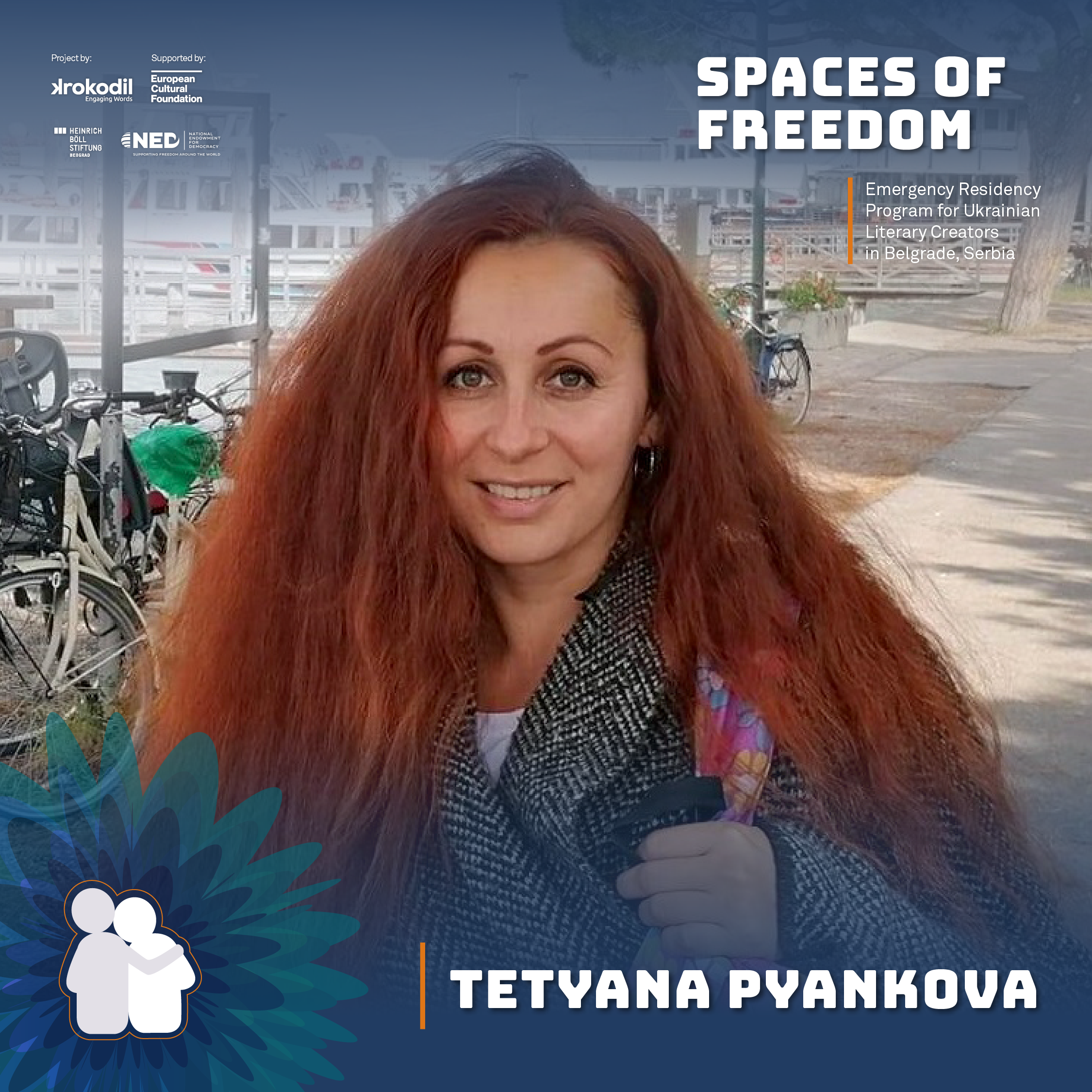 08 May

Opening of the KROKODIL's Ukrainian library and "HUNGER AS A WEAPON".  A CONVERSATION ABOUT THE GENOCIDE, NATIONAL MEMORY, COLLECTIVE TRAUMA AND THE NOVEL "THE AGE OF RED ANTS"

Participants: Tetyana Pyankova and Vasyl Kuzan
Thursday, May 11, 7 p.m.
KROKODIL Center, Karađorđeva 43

On Thursday, May 11, starting at 6 p.m. a conversation titled "Hunger as a weapon" will be held in KROKODIL Center right after the official opening of the KROKODIL's Ukranian library. Ukrainian writer and editor Tetyana Pyankova, a resident of the KROKODIL's emergency residency program for literary creators "Spaces of Freedom", and Ukrainian writer and journalist Vasyl Kuzan, will participate. We will talk with them about the history of suffering of the Ukrainian people, from the 1930s under Stalin's dictatorship until today. A novel by Tetyana Pyankova "The Age of Red Ants", which deals with the topic of the genocide against Ukrainians in the period of 1932-1933, will also be presented.

Tetyana Pyankova is a writer, editor and marketing specialist. Since 2020 she has been working on the topic of the Genocide of the Ukrainian people in 1932-33. Her novel about the Genocide "The Age of Red Ants", was published by "Our Format" in 2022. She is also the author of the books "Crying Happiness" (2003), "Kiss in the fontanel" (2015), "Krolivna" (2016), "Culpa mea" (2016), "Sun on the Hem" (2017), "Other people's sins" (2020). She is the art director of the Potion Literary Agency, and was executive director of the Carpathian Pegasus Festival (2015-2021). She is also organizer of creative literary and artistic events, performances, theatrical literary readings, master of painting Easter eggs. She collects authentic dolls.

Tetyana Pyankova's stay as KROKODIL's Writer-in-Residence is realized within the framework of the Spaces of Freedom project.
Association KROKODIL, as an independent organization from Belgrade with literary, artistic and socio-political activities has decided to provide shelter and support to Ukrainian literary creators on top of other activities related to Ukraine such as collecting humanitarian help for the City Perinatal center in Kharkiv etc. Being that a large number of Ukrainian writers have been offered similar programs in many European countries, we decided to open the doors of our residence for writers to all literary creators (including, besides prose writers and poets, also essayists, translators, editors, cultural journalists, comic book authors, theoreticians, columnists, singer-songwriters, rappers, spoken word performers, etc.).
This project of the Association KROKODIL is supported by: The European Cultural Foundation and Heinrich Böll Foundation.
Events with residents in KROKODIL Center are supported by the National Endowment for Democracy (NED).

This event is realized in cooperation with the "Čini dobro" Association.