01 Jul

Anisur Rahman – jul u Beogradu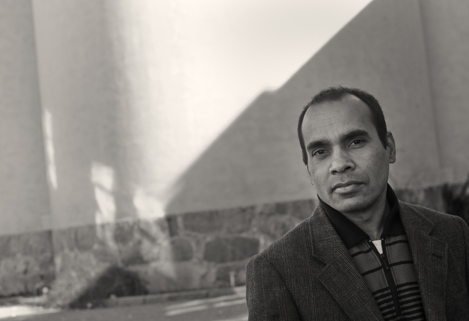 Anisur Rahman (1978) je pesnik, dramski pisac, romanopisac, esejista, novinar, književni kritičar i prevodilac. Član je Švedskog udruženja pisaca i počasni šlan Švedskog PEN centra. Programski je urednik Švedskog književnog centra u Upsali (www.litteraturcentrum.se).
Anisur Rahman je dobitnik stipendije Princa Vilhelma Švedskog PEN centra 2013. godine. Debitovao je 2003. zbirkom pesama Empty Glass. Govori i piše na bengalskom, engleskom i švedskom. Trenutno živi u Upsali, u Švedskoj, gde je od 2009. do 2011. bio rezidencijalni pisac. Studirao je bengalski i engleski jezik, književnost, istoriju, film i studije drame na Univerzitetu u Daki i Univerzitetu u Stokholmu. Radi na književnim programima kreativnog pisaca u sklopu organizacije Studiefrämjandet. Sex årstider [Šest godišnjih doba] je Rahmanova prva zbirka pesama na švedskom.
Kao dramski pisac, pisao je za pozorišta u Bangladešu, Norveškoj i Švedskoj, kao i za Švedski radio i norveški radio NRK. Objavio je nekoliko knjiga proze i poezije u Bangladešu, Švedskoj, Norveškoj i SAD. Na bengalski je preveo više klasičnih pisaca poput Francka Kafke, Henrika Ibzena i Tomasa Transtremera. Trenutno prevodi nekoliko nordijskih pesnika na bengalski. Prozu i poeziju objavljuje u različitim časopisima u Bangladešu, Finskoj, Norveškoj i Švedskoj, poput Uppsala Nya Tidning, The Weekly Holiday i The Finland Times.
Osnovao je i vodi nekoliko književnih festivala u Upsali, među kojima su the Mother Language International Poetry Festival i the Fristad festival.