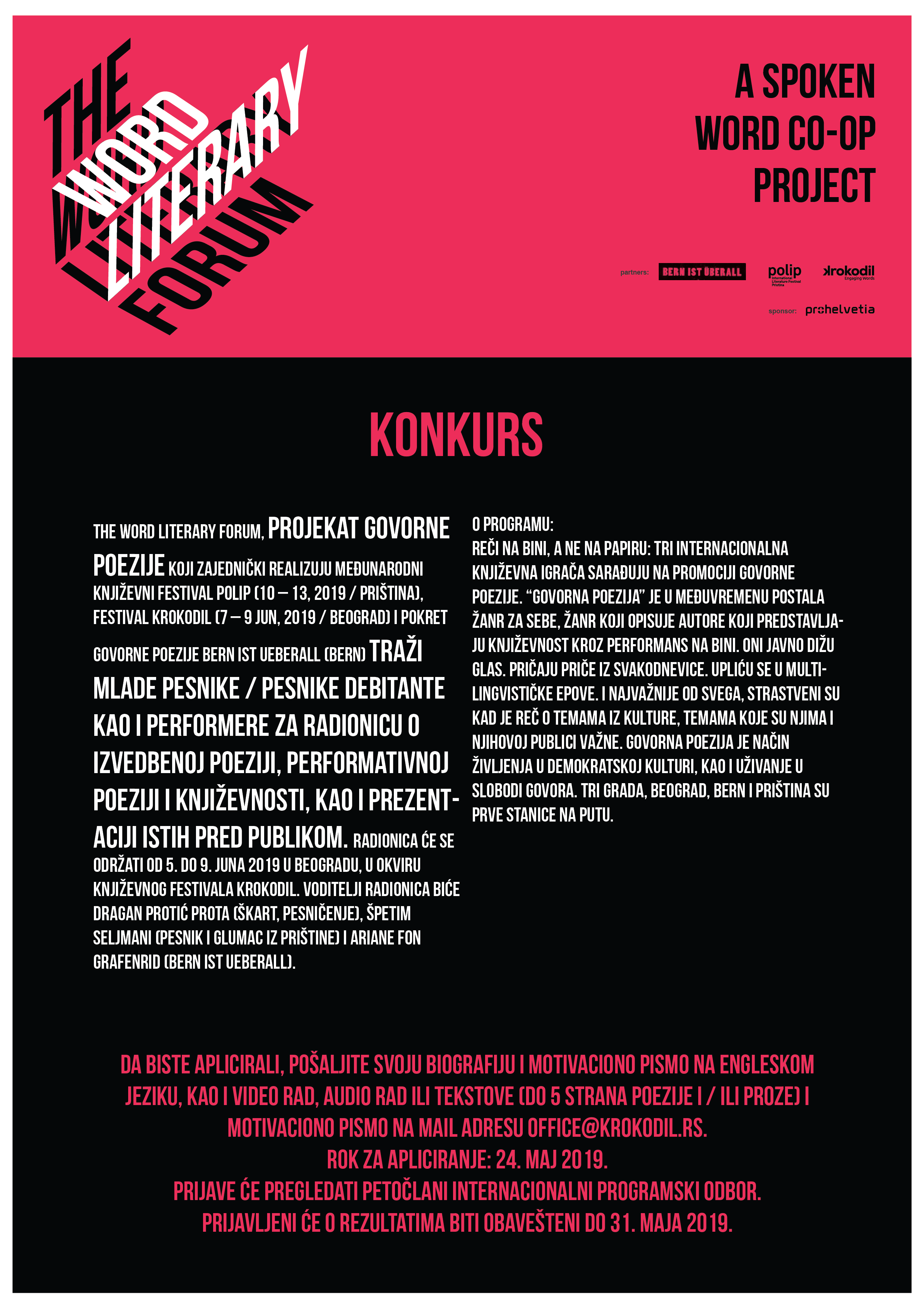 07 May

Konkurs The WORD LITERARY FORUM

The WORD LITERARY FORUM, projekat govorne poezije koji zajednički realizuju Međunarodni književni festival POLIP (10 – 13, 2019 / Priština), festival KROKODIL (7 – 9 jun, 2019 / Beograd) i Pokret govorne poezije Bern ist ueberall (Bern) traži mlade pesnike / pesnike debitante kao i performere za radionicu o izvedbenoj poeziji, performativnoj poeziji i književnosti, kao i prezentaciji istih pred publikom. Radionica će se održati od 5. do 9. juna 2019 u Beogradu, u okviru književnog festivala KROKODIL. Voditelji radionica biće Dragan Protić Prota (Škart, Pesničenje), Špetim Seljmani (pesnik i glumac iz Prištine) i Ariane fon Grafenrid (Bern ist ueberall).

O programu: reči na bini, a ne na papiru: tri internacionalna književna igrača sarađuju na promociji govorne poezije. "Govorna poezija" je u međuvremenu postala žanr za sebe, žanr koji opisuje autore koji predstavljaju književnost kroz performans na bini. Oni javno dižu glas. Pričaju priče iz svakodnevice. Upliću se u multilingvističke epove. I najvažnije od svega, strastveni su kad je reč o temama iz kulture, temama koje su njima i njihovoj publici važne. Govorna poezija je način življenja u demokratskoj kulturi, kao i uživanje u slobodi govora. Tri grada, Beograd, Bern i Priština su prve stanice na putu.
Da biste aplicirali, pošaljite svoju biografiju i motivaciono pismo na engleskom jeziku, kao i video rad, audio rad ili tekstove (do 5 strana poezije i / ili proze) i motivaciono pismo na mail adresu office@krokodil.rs. Rok za apliciranje: 24. maj 2019. Prijave će pregledati petočlani internacionalni programski odbor. Prijavljeni će o rezultatima biti obavešteni do 31. maja 2019.
Biographies of the facilitators:
Ariane von Graffenried is an author with a doctorate in theatre studies and writes texts for the stage, radio, and newspapers as well as scientific texts. She is a member of the awardwinning writers' collective «Bern ist überall». Since 2005, she has performed as a spoken word artist with musician Robert Aeberhard as the duo «Fitzgerald & Rimini». Her most
recent published work is the book «Babylon Park» (2017). In her spoken texts, Ariane von Graffenried switches playfully from Swiss dialects to High German, from French to English. She crosses language borders and geographical dividing lines and mixes aesthetics with social criticism, the fantastic with the factual, the laughable with the questionable. For many years she's been working at the interface between literature, music and performance. In close collaboration with the musician Robert Aeberhard («Fitzgerald & Rimini»), some of her texts became spoken songs. A selection of her texts published in «Babylon Park» have been presented at international festivals, translated by Anne Posten and Peter J. Betts and performed by «Fitzgerald &Rimini».
Shpëtim Selmani was born on 1986 in Pristina. Has obtained a degree from the University of Pristina – Faculty of Arts in Acting. Beside writing poetry and novels he also plays regularly in theatre performances. His last book is, "Poetry in the times of Blood and Desperation 2010 – 2017". Shpetim writes continuously for the alternative blog S'bunker. He's also a dreamer that doesn't seem to be needed by anyone. by «Fitzgerald & Rimini».
PROTA (Dragan Protic), co-founder (with Djordje Balmazovic) of the ŠKART group (rejects/ausschus/scarto), founded in 1990 in Belgrade. Together with various collaborators, through permanent constructive conflict, this collective is questioning no-named edged crossing forms of poetry, performance, architecture, graphic design, music, theatre, alternative education and social activism. In constant practice-switching, after first 10 years of self-publishing-self-distributing strategy in street actions, ŠKART launched a long-term process of initiating and developing new collectives and networks, such as:
> choirs (HORKEŠKART/HORKESTAR (2000-ongoing), PROBA/rehearsal (2007/2013) + children-choirs: DECA SA MESECA/moon-children (2007-ongoing), AprilZMAJun (2010-2013)
> crafts group NEPRAKTIČNE ŽENE/Non-practical Women (2000-ongoing)
> poetry festival PESNIČENJE/Poetrying (2008-ongoing rearranged)
ŠKART performed, workshopped, exhibited and lectured in Europe, America and Asia. In 2011 the group participated in Venice Bienial of Architecture with SEE-SAW / PLAY-GROW (polygon of dis-balance, inspired by Metropolis-Poem by Vasko Popa). www.skart.rs